This page highlights some of our current and past projects from the beginning to the final result. Each and every project takes on it's own set of challenges that encompasses all phases of our ability to provide a complete, accurate, timely and efficient repair process.
Feel free to browse through this information and give us a call if there are any questions.
Linkbelt HTC8675
This is a Linkbelt HTC8675 truck crane that was hit by a train. Thankfully nobody was injured. A good customer hired us to perform the majority of the repairs. These are the before and after pictures, if you would like to see it's journey throughout the repair process then just go to our Facebook page or click here.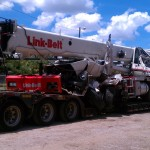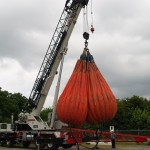 Mantis 10010MX
These are the boom sections from a Mantis 10010MX, a 50 ton crawler crane with a hydraulic boom assembly. It sustained damage to the middle portion of the booms in all four sections. We had to remove the damaged steel and replace with the manufacturer equivalent. In the end the customer saved thousands of dollars, we were able to turn the job faster than factory-lead times and the overall experience was a success.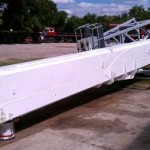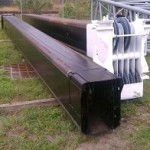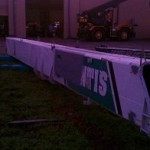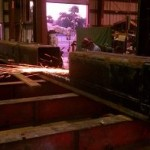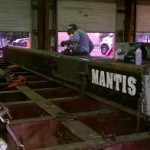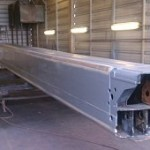 American 9299
This is a base section of an American 9299 that was severely damaged. The entire pin-up portion of the boom had to be rebuilt. The pin-up journals we the only part of this area that was salvageable. As with the hydraulic booms, all steel removed is lab-tested to ensure proper replacement steel installation.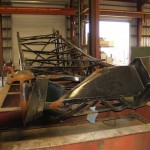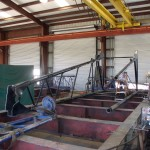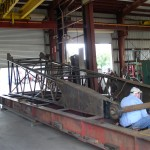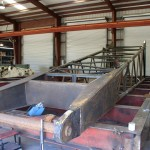 Grove RT 745
This is a standard repair for us. It is the point section off a Grove RT 745 and came in with the top and side caps damaged, while only the bottom was still keeping it together. All four sections had to be replaced. Whenver we can, it is standard operating procedure to install reinforfcement plates over the repaired areas as is shown in the pictures.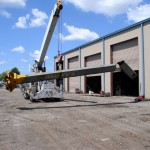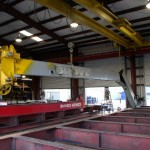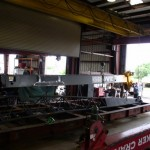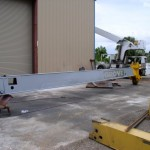 Liebherr LTM 1160
Here are two insert sections that were cracked in awkward places. We've never seen them crack like this at the tip by the dog collars. We ended up having to remove half of the dog collar on one section to eliminate the cracks completely. In addition to this the central alignment block in this same section had sustained various cracking which needed to be cut out, repaired and welded back into place. The other sections was cracked at the weld between the boom steel and dog collar. This was grinded down, veed out and re-welded. Both section had 3rd party NDT testing to ensure all the cracks were eliminated.
We documented this repair on a slideshow. Click here to see the whole repair process.